Turtle Tough sensor technology
Intelligently designed to perform in extreme applications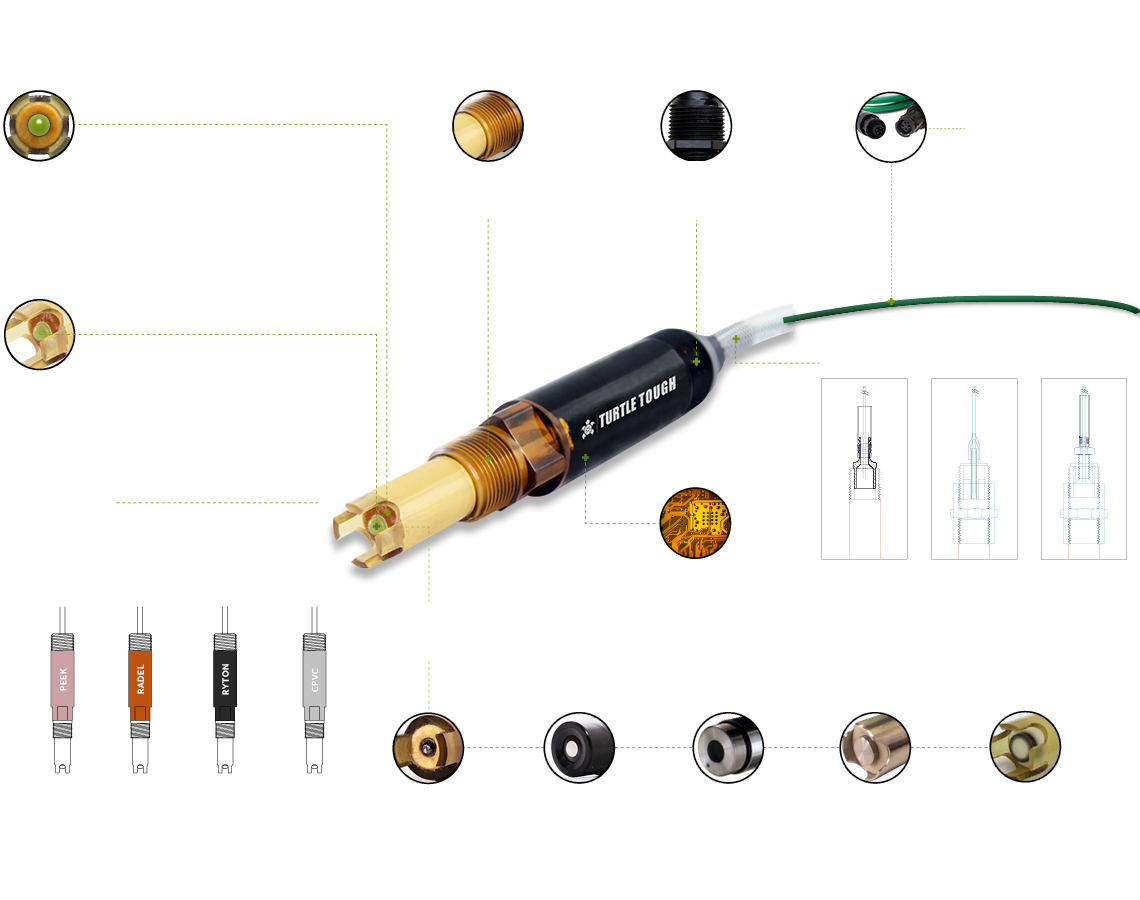 Front-end connection3/4" or 1" MNPT
Back-end connection3/4", 1" or 11/4" MNPT
Connectivity• Cable length; 6m standard, optional up to 1000m
• Hard wired or quick connect plugs
Electronic technologies• Analogue NO preamplifier
• Analogue WITH preamplifier
• Automatic temperature compensation
• Direct Smart Sensor with onboard
microprocessor
Waterproofing sealing options
Cable
protectionProtects cable
from damage
and process
ingress
Standard
waterproofingProvides complete
back-end isolation
from process for
long life when
fully submersed
Extreme
waterproofingCombines standard
waterproofing &
cable protection
PEEKOrganic,
solvent and
gas resistance
RADELExcellent
chemical,
thermal &
mechanical
properties
RYTONSuperior
chemical
resistance
CPVCCost effective
for less extreme
applications
Body plasticsChoose body plastics that are compatible with
your application. Material selection is matched to your
application requirements.
pH measurement sensor element
Reference• Ionically conductive solid-state reference system
• No gels or liquid electrolytes
• Large surface area for reduced fouling
• Built to chemically resist a wide range of contaminants
• Double and triple junctions provide superior lifetime
• Highly resistant to aggressive gases
Ultra tough break resistant pH glass• Incredible chemical resistance
• High stability, low drift characteristics
• Resists abrasion and high velocity solids
• Virtually unbreakable for the intended application
Other sensing
technologies
Platinum ORP
sensor element
Dissolved Oxygen
sensor element
Conductivity
sensor element
TOUGH
The original:
Tough Series Sensors
Built to withstand the toughest process environments in the world.
Until recently, analogue signal was the only signal available. The Tough Series' analogue output interfaces with a range of traditional analysers and transmitters.
This range of sensors have been used for decades in a huge range of industries where extreme processes require extremely tough sensors. Turtle Tough sensors are the preferred chemical measurement solution in high pressure, high temperature, abrasive and aggressive media.
"Our Tough Series Sensors are designed to be rugged, extremely strong and resistant to a wide range of extreme chemical processes, temperatures and pH levels."
SMART
The evolution:
Smart Series Sensors
Built with Direct Smart Sensors technology (DSS), stores and processes all data on the sensor.
Turtle Tough's range of Smart Series Sensors are built with the same rugged, extremely strong design as our Tough range. They resist a wide range of extreme chemical processes, temperatures and pH levels.
So what changed? They are unbeatably tough sensors, paired with unprecedented connectivity and control.
"Our Smart Series Sensors are equipped with an on-board microprocessor, capable of processing measurement data and providing a feature rich digital MODBUS RTU output directly from the sensor."
Analogue sensors interface with traditional analogue transmitters and analysers. Chosen to meet your system requirements.
Compatible Devices

Modular Analyser System

Create a multi-parameter analyser with any combination of our analytical modules: pH, ORP, temperature,dissolved oxygen and conductivity.

Tough Series analogue sensors will interface with many other leading brands* of analyser.
*please check for compatibility

Junction Boxes

Analogue Junction Box

Allow Smart Sensors to be easily connected to network devices up to 1000m away.
Interface directly to any modern industrial network that accepts a digital MODBUS RTU signal.
Compatible Devices

DSS Multi-Channel PLC Controller

Provides connectivity for up to six sensors. Available in 2, 3 and 6 channel configurations

DSS 6080EX-Rated Transmitter/Controller

Accepts up to 8 sensor inputs and provides a stunning super bright LED display, while outputting MODBUS RTU to your network

Digital Sensor Interface Box

Allows Smart series sensors to interface directly to your PC via our Windows Software. Calibrate, configure and data log directly from your PC

DSS Handheld Field Communicator

For field calibration and configuration. Provides a portable interface to your Smart Sensor. Calibrate, configure and retrieve vital information fromy our Smart Sensor.

Junction Boxes

DSS Junction Box

Junctions boxes provide plug n play connectivity for smart sensors and allow extended cable runs up to1000m. Available in 1, 3 & 6 channelconfigurations