Turtle Tough sensor technology
Intelligently designed to perform in extreme applications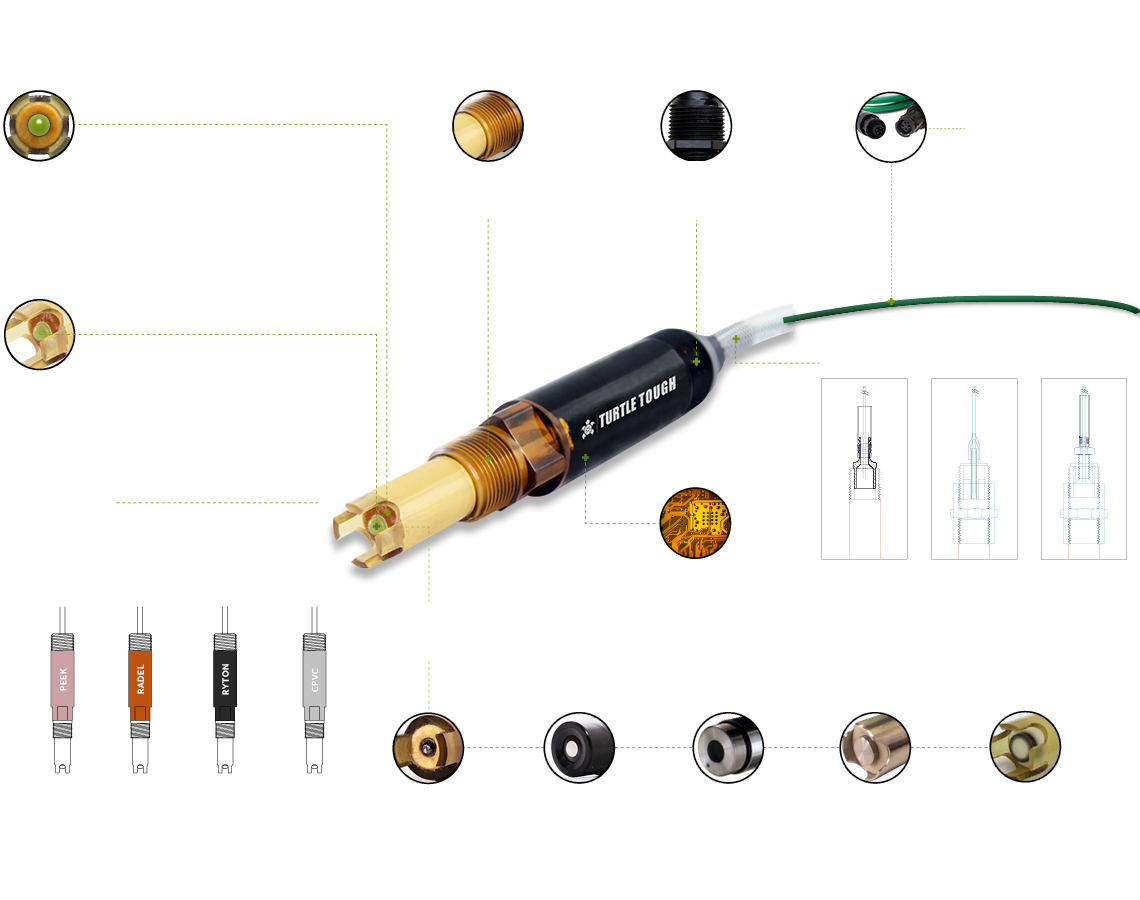 Front-end connection3/4" or 1" MNPT
Back-end connection3/4", 1" or 11/4" MNPT
Connectivity• Cable length; 6m standard, optional up to 1000m
• Hard wired or quick connect plugs
Electronic technologies• Analogue NO preamplifier
• Analogue WITH preamplifier
• Automatic temperature compensation
• Direct Smart Sensor with onboard
microprocessor
Waterproofing sealing options
Cable
protectionProtects cable
from damage
and process
ingress
Standard
waterproofingProvides complete
back-end isolation
from process for
long life when
fully submersed
Extreme
waterproofingCombines standard
waterproofing &
cable protection
PEEKOrganic,
solvent and
gas resistance
RADELExcellent
chemical,
thermal &
mechanical
properties
RYTONSuperior
chemical
resistance
CPVCCost effective
for less extreme
applications
Body plasticsChoose body plastics that are compatible with
your application. Material selection is matched to your
application requirements.
pH measurement sensor element
Reference• Ionically conductive solid-state reference system
• No gels or liquid electrolytes
• Large surface area for reduced fouling
• Built to chemically resist a wide range of contaminants
• Double and triple junctions provide superior lifetime
• Highly resistant to aggressive gases
Ultra tough break resistant pH glass• Incredible chemical resistance
• High stability, low drift characteristics
• Resists abrasion and high velocity solids
• Virtually unbreakable for the intended application
Other sensing
technologies
Platinum ORP
sensor element
Dissolved Oxygen
sensor element
Conductivity
sensor element
Analogue sensors interface with traditional analogue transmitters and analysers. Chosen to meet your system requirements.
Compatible Devices

Modular Analyser System

Create a multi-parameter analyser with any combination of our analytical modules: pH, ORP, temperature,dissolved oxygen and conductivity.

Tough Series analogue sensors will interface with many other leading brands* of analyser.
*please check for compatibility

Junction Boxes

Analogue Junction Box

Allow Smart Sensors to be easily connected to network devices up to 1000m away.
Interface directly to any modern industrial network that accepts a digital MODBUS RTU signal.
Compatible Devices

DSS Multi-Channel PLC Controller

Provides connectivity for up to six sensors. Available in 2, 3 and 6 channel configurations

DSS 6080EX-Rated Transmitter/Controller

Accepts up to 8 sensor inputs and provides a stunning super bright LED display, while outputting MODBUS RTU to your network

Digital Sensor Interface Box

Allows Smart series sensors to interface directly to your PC via our Windows Software. Calibrate, configure and data log directly from your PC

DSS Handheld Field Communicator

For field calibration and configuration. Provides a portable interface to your Smart Sensor. Calibrate, configure and retrieve vital information fromy our Smart Sensor.

Junction Boxes

DSS Junction Box

Junctions boxes provide plug n play connectivity for smart sensors and allow extended cable runs up to1000m. Available in 1, 3 & 6 channelconfigurations
Direct Smart Sensors (DSS) with Digital MODBUS RTU Output
Turtle Tough's range of Direct Smart Sensors (DSS) are equipped with an on-board microprocessor which is capable of processing measurement data and providing a feature rich digital MODBUS RTU output directly from the sensor. This enables the sensor to be directly interfaced with any MODBUS compatible data acquisition device, such as a PLC, RTU or data logger. Direct connectivity eliminates the need to interface with a traditional intermediary controller or analyser and provides unprecedented communication and control directly with the sensor.
Process more than a dozen parameters with Direct Smart Sensors including:
Measurement type
Calibration data
Raw and calibrated process values
Max/min temperature
Baud rate
Node
Serial number...
As well as useful service information such as the number of days in use. These values can be intelligently integrated into your data acquisition system to achieve a very sophisticated level of analysis and control.
Why is this different?
Smart onboard data processing presents us with a number of unique advantages that are not possible with a traditional sensor and transmitter configuration. This includes:
The ability to interface directly to modern PLC controllers and data acquisition systems

Utilise existing powerful architecture; or
Utilise factory supplied custom programmed PLC's, Transmitters & Controllers
Access data remotely through both wired and wireless networks
The ability to eliminate the cost of a mating transmitter where a local display is not necessary

Intelligent management of sensor calibrations and service life cycle
Calibrate sensors offline in the laboratory or workshop
Offset calibrations can be done remotely with the sensor left in service
Accurately monitor service intervals and calibration history
The intelligent Handheld Field Communicator provides easy-to-use portable connectivity for calibration and configuration of all Smart Sensors
Quick connectors eliminate hard wiring and provide system-wide plug n play compatibility to ALL interfacing components including the handheld field communicator, junction boxes, extension cables, transmitters and controllers.
Smart digital sensors ensure reliable operation even in noisy process environments
Supports cable runs of up to 1000m with no degradation in signal
Windows PC Software directly communicates with sensors for calibration, configuration, and data logging.
About the technology
Turtle Tough's DSS technology is supported by comprehensive documentation. Our software allows users to access all user adjustable parameters, analytic data, calibration functions as well as sending fully compensated high-resolution process values. Sensor analytics enable operators to schedule proactive maintenance and provide accurate and timely information on the process. The Modbus RTU protocol has been specifically chosen as it is an open standard that creates an open and collaborative environment for process automation and liquid analysis. This provides a level of connectivity and integration that is not possible with closed architectures and proprietary platforms that force vendor lock-in.
IMPORTANT:
TURTLE TOUGH DIRECT SMART SENSORS (DSS) are fully supported by a range of factory hardware solutions including SMART Analysers, Handheld Field Communicators, PC Communication tools and field implementation devices such as junction boxes, extensions leads and power supplies. This ecosystem provides a complete solution of reliable connectivity and sensor management.
TURTLE TOUGH sensors may also be directly interfaced with end user hardware via the MODBUS RTU protocol. Integrating sensors directly into your industrial network requires a moderate to high level of onsite expertise in system integration, and should not be undertaken by anyone without the requisite experience. We suggest you read the sensor implementation guide carefully to understand the full scope and requirement for installation, because:
Turtle Tough Pty Ltd and their representatives can provide only limited factory support when integrating sensors into 3rd party hardware.
Product support is limited to the information provided in our field implementation notes and guidelines.
Turtle Tough and their representatives are unable to provide support on 3rd party hardware or provide troubleshooting on equipment not supplied by us. We are unable to warrant the performance or compatibility of our product with 3rd party hardware or software. If you intend to integrate the sensor directly with your own hardware we highly recommend the following:
Read the Field Installation Guide and Sensor Implementation Guide.
Purchase a handheld field communicator (HFC) from Turtle Tough. This stand alone device, self powers the sensor and provides complete diagnostics and communication. The HFC allows us to independently test and verify the sensor performance, independent of your system or hardware and is the single fastest way to rule out any sensor performance issues and be able to identify field installation problems.
Alternatively, you may purchase a windows PC interface box. Once again, this factory supplied and tested component will ensure reliable communication with the sensor and it can be tested independently of your system.
Please note that our quick connect plugs my never be cut or removed from the sensor. This will immediately void warranty. Only use Turtle Tough factory interface leads or panel mount connectors to interface with your hardware.
Software